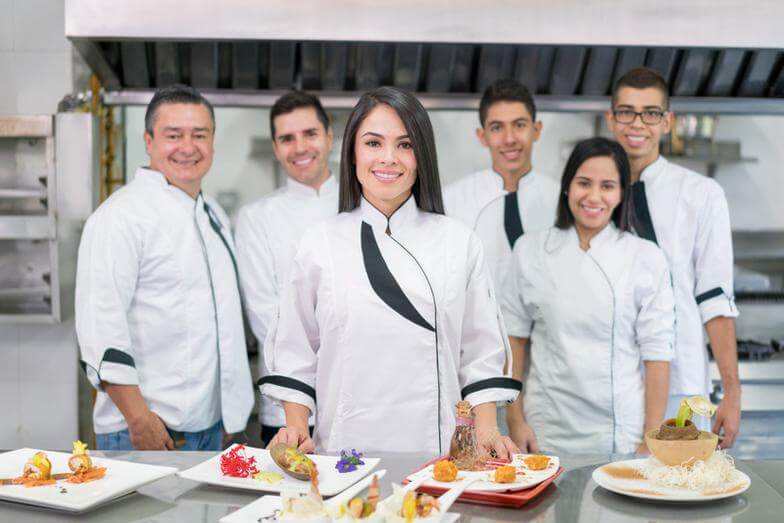 COURSE OVERVIEW
A chef de partie is responsible for running a specific section of the kitchen. Typically they'll manage and organise a small team of workers to ensure dishes go out on time and the work area remains clean and orderly. In smaller kitchens, a chef de partie may work independently as the only person in their section. Also known as a station or section chef, the chef de partie reports to the senior chef and has a very important role in any kitchen.
HOW DOES IT WORK?
This qualification requires you to demonstrate the skills and knowledge required to work in a professional kitchen.
WHAT WILL I STUDY?
You will be required to demonstrate knowledge, understanding, skills and behaviours in the following areas:
Culinary e.g. understand the preparation, cooking and finishing methods of different food groups, develop of menus, identify how to maximise yield and quality, and minimise wastage
Food safety e.g. store, prepare, cook and present food to agreed food safety practices and guidelines, ensuring a clean and hygienic kitchen environment is maintained
People e.g. brief, coach and motivate others positively to deliver high quality dishes and menu items
Business e.g. use techniques that help improve competitiveness, business performance, revenue, profit margins and customers' experience, risk assess situations, identifying and isolating matters of concern
WHERE DO I STUDY?
You will work towards the qualification in the workplace.
HOW LONG DOES IT TAKE?
This qualification will take around 12 – 18 months to complete.
WHAT DOES THE COURSE LEAD TO?
On completion of Level 3 Chef de Partie, with support and opportunities in the workplace, can progress onto:
Supervisory positions
Head Chef Roles
Advanced Diplomas in a range of related sectors
HOW WILL I BE ASSESSED?
Suitable evidence can be observations completed by your assessor, testimony provided by your line manager or discussions with your Assessor supported by evidence. You will also need to undertake a knowledge test, skill test and professional discussion as well as culinary challenge project and observation.
Apply Now